Рус
Koh Samui Top Villas
for Holiday Rental and Sale
Refine Your Property Search
Pool:
Ocean View:
Location:
Cost of Villas for Rent on Koh Samui:
If you have already looked through the Koh Samui rental ads on our website, you have probably noticed that there is a huge range of prices. This is why we have decided to review the different categories of villas for rent on Koh Samui. We hope that our little guide will help you to understand how much you need to pay and what you will get for that money.
Greater Than $1,000 per Day
Residences in this category simultaneously meet ALL of the following criteria:
Offer a beautiful, panoramic sea view or are located directly on the beach
Include a private pool with large terrace and convenient chaise lounges
Are constructed as an individual project through the best designers using only the most expensive, highest quality materials
Come with large, stylish bathrooms with beautiful views and expensive, high-grade fittings
Have no less than 4 bedrooms, and also a living room, several dining zones, and a modern kitchen equipped with all necessary appliances
Additional options are available such as pavilions/arbours, cinema halls, billiard rooms, gyms, mini-spas, tennis courts, etc
The whole villa includes accessories, furniture, internal and external decorations, and a pool which is either new or in pristine condition
Additional services available around the clock, such as an on-site chef, complimentary breakfast, and massage, are often included in the price
Service staff typically live in the villa and are accessible at any time
$500 to $1,000 per Day
For this fee you can rent:
A villa from the first category in the low season
A villa meeting all requirements of the first category but with fewer bedrooms
A villa meeting all requirements of the first category but located on a beach unsuitable or inconvenient for swimming (i.e., far away or with a lot of rocks and sharp coral)
A villa meeting all requirements of the first category whose owners have not advertised it thoroughly, or which is a recent entry onto the market
$300 – $500 per Day or $5,000 – $10,000 per Month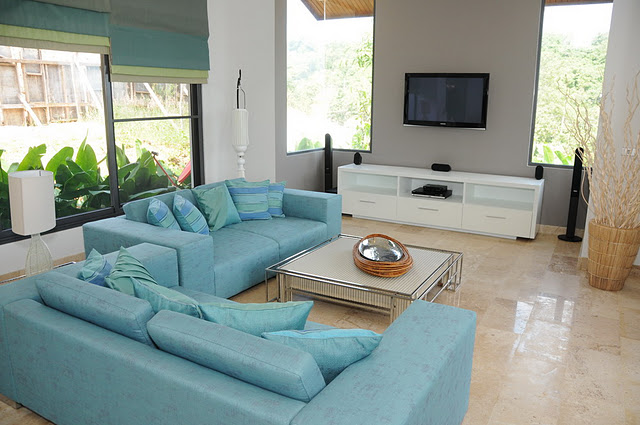 Take the description of the most expensive villas of the first category and change the phrase "simultaneously meet ALL of the following criteria" into "may meet some of the following requirements".

In reality, these are often excellent villas with 2 to 3 bedrooms located off the coast, featuring a smaller pool. The basic difference in comparison with the 1st category villas is that the furniture and design are simpler, and there are no bonuses as billiard tables, cinema halls and tennis courts. Chef services and massage are also not included in the price. Finally, service staff are usually only on hand for several hours per day.
$100 – $300 per Day or $1,000 – $3,000 per Month (Economy Class)
These houses are usually located in a resort and are not suitable for those who desire a private retreat. They are usually older villas, and feature the following:
Shared or small private pools
Minimalistic external and internal design
Inexpensive construction materials and simple modern furniture
A basic kitchen usually without built-in appliances
If a nice bathroom is important for you, perhaps you will not like this category of accommodation. Often, the bathtub is absent and there is only a shower with a direct-flow water heater.
Also, the monthly rent typically does not include payment for electricity, water, cleaning and sometimes the Internet. Thus, utilities are all additional costs.
Our catalogue features villas in this price category (daily rentals) which meet all the parameters of the more expensive options.
Property with the Best Price/Performance Ratios:
$50 – $100 per Day or $1,000 per Month (Thai-style Homes)
Owners of this range of houses in Samui are usually Thai people, which can affect the overall appearance and furnishings. There is no private pool, yet there may be a public swimming pool in the resort. Living conditions are simple enough and the furniture is often not new. There can be some problems with the Internet even when it is declared as an available extra. You will also have to use personal or hired transport to reach the island's decent beaches. These houses are usually only open for long-term rent (a month or more), and extras such as electricity, water, cleaning services and the Internet (if it is available) have to be paid separately.
$15 – $50 per Day or $150 – $600 per Month
This is a good option for backpackers and budget tourists, and encompasses the same features as the above Thai-style homes but with less convenience. These houses have only the most essential items. Instead of a kitchen there is only a little portable cooker. These bungalows will also only have a bedroom and bathroom. There are no luxuries such as having a private pool or easy access to a decent beach. Often, there is also no Internet and no air-conditioning. We do not offer property in this category, but you can rent it for yourself after your arrival on Koh Samui.
Important! The following information concerns absolutely all property categories.
If a house is near a beach, its price will be 1.5 times as much as all similar options which are further inland (where transport is necessary). If there is a good comfortable beach with a swimmable sea nearby, the house will cost twice as much. Thus for accessibility to the coast, you may have to sacrifice the comfort level of your dwelling unless you pay a bit extra.
Keep in mind that rental fees for villas in Koh Samui increase by 30% on average during the Christmas and New Year holidays.
Useful Information:
For more information on our latest vacancies, news and deals, you can follow us on
Facebook
or
Twitter
. We look forward to seeing you there!
Best Offers: